GitHub | refuge.tokyo | MobyGames | QuarterDev
Opening Animation
Status
Done: Dumping, ASCII Text Hack
In-Progress: Lots of Text Hacking
About Game
Lieutenant Stockman, a scientist at a military base for energy research, has just completed development on a huge energy crystal which can produce vast amounts of energy, as well the control system for that crystal known as Rachel. The team that worked with him on the Energy Shell crystal are holding a celebration in the lab, when suddenly an alarm starts to go off. According to Rachel, the Shell is gathering energy of an unknown origin which could cause a hyperspace rift… There's a flash, and then the two scientists closest to the Energy Shell, Stockman and Risach, find themselves awake in an unknown land surrounded by humanoid reptilians. The two must now try to find a way home while navigating the different cultures and nations of… Different Realm.
Different Realm: The Eternal Sage (Different Realm: Kuon no Kenja) is something we consider to be a true hidden gem for the PC-98. It is an RPG that was developed by Glodia and released in 1993 by ASCII. The combat is a combination of turn-based and strategic battle systems on a battlefield with no grid, creating a fairly free-form system where you move your characters on their turns, experiment with different formations and line up attacks. The game runs quite smoothly, which is quite unlike many of the choppy grid-based RPGs for the PC-98 system. The art is colorful, and often adorable and funny. Overall, it's a game we really think is worth introducing to Western audiences from a developer who put a whole lot of love into their product.
About Project
Though this is one of the most daunting games we've ever looked at translating, we are in contact with one of the game's original developers, who was kind enough to send us its source code! The game will still take significant assembly modifications, but this should shorten the "mindless stumbling around" portion of the project by quite a bit.
The game's text is compressed into a format called .TOS, which uses a method specific for Japanese characters. And the images are in a format called .IMG, which appears to be proprietary despite its generic name.
There's a pretty daunting amount of text in the game, and the world's lore is supplemented by an extensive manual and manga, and even a tabletop RPG (if we can find it). We're estimating it is at least as long as E.V.O., Rusty, CRW, and Appareden, and all their manuals, combined. Expect this to take us a while.
Screenshots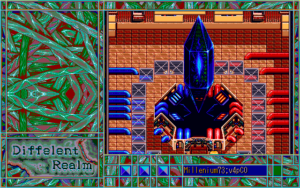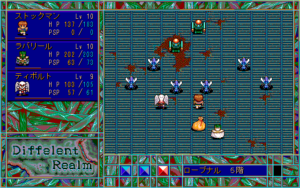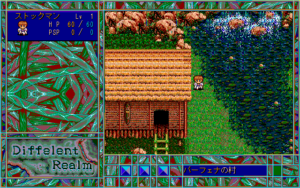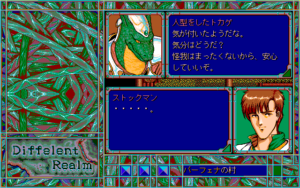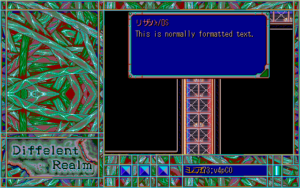 Credits
QuarterDev – Special Thanks
hollowaytape – Hacking
kuoushi – Translation
SkyeWelse – Graphics
MP83 – Frame Graphics Edit